"Hey I put some new shoes on
and suddenly everything is right"
Thank you Paolo Nutini.
So... I bought some new shoes a few weeks ago. The other day when I took my walk I got a huge ugly blister on my left heel. I was not amused. I have been taking short walks in my house shoes ever since. Because I didn't want to give up my walks but I couldn't use my walking shoes. Today I went to Academy Sports and purchased a
new
new pair of walking shoes.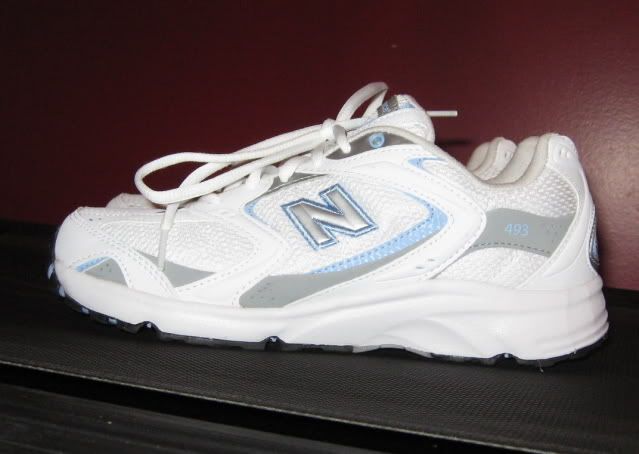 New Balance, of course. And you know what the problem was? I've worn a size 8.5 sneaker for years, decades... today I purchased a size 7.5 sneaker. Weird! I dropped a whole shoe size! Cool, eh? Would be better if it had been a
dress
size. But I'll take what I can get.
I did walk for 20 minutes today in my new shoes, but my blister is not fully healed yet and I nearly tore the skin, so I stopped. Bummer. But I'm sure I will be back to my usual walks soon.
Oh! I also got a set of hand weights to use with my Gilad DVDs. The set included: a set of 1 pound weights; a set of 3 pound weights; and a set of 5 pound weights.
My sugar is still sort of high but not as high as it was. I have been a little bit busy lately and haven't had the time or energy to concentrate on a routine. Tomorrow and Friday will be better. I hope.
I know... this post doesn't have a picture of me in it... that's cause I am using the laptop and I don't have many pictures saved on here. Let me see what I can find...
Nothing. Sorry. I'll post something tomorrow.
Bye for now.